The Monthly Claim – June 2021
A roundup of notable news and transactions in the Insurance and InsurTech sectors
CAPITAL RAISE: German InsurTech Wefox Raises $650M in Funding, Valuing Firm at $3B via Insurance Journal
Digital insurance company Wefox raised $650 million from investors, in what it called a record-breaking round for an InsurTech company that valued the business at $3 billion.
The funding means Berlin-based Wefox has raised nearly a billion dollars in funding to date with more than 20 investors participating in the latest round.
The company aims to increase revenues to $350 million this year, from $143 million in 2020, as it builds its branded sales team and product portfolio to complement the existing platform that hosts independent insurance brokers.
MARKET MOVES: Tractable Makes Inroads in US Insurance Market with Geico Partnership via Insider Intelligence
Tractable's AI solution uses computer vision technology to rapidly evaluate photos of vehicle damage – instead of relying on a physical human appraisal – increasing the accuracy of damage estimated and expediting the policyholder claims journey.
Tractable will enable faster claims payouts and digitized vehicle damage assessment for 28 million vehicles Geico insures across the US.
Tractable's strong growth trajectory is due, in part, to its sustained onboarding of big-hitter insurance partners.

Large global insurers that have partnered with Tractable include Spain-based Admiral Seguros and Japanese insurance outfit Mitsui Sumitomo Insurance in 2020.
The U.K. InsurTech also expanded existing partnerships with Japan-based Tokio Marine and French insurer Covéa last year.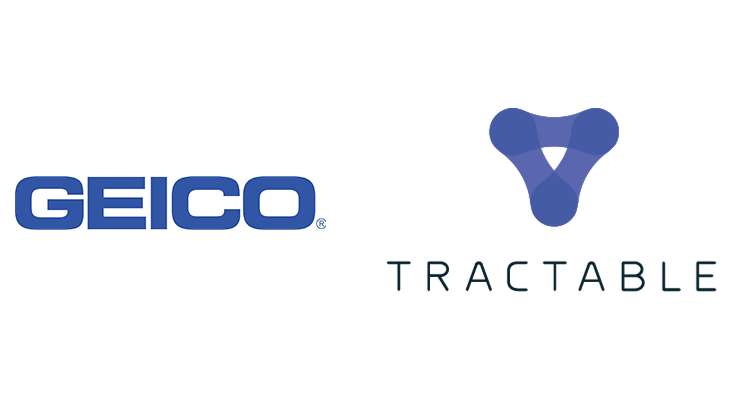 Source: Google Images
MARKET MOVES: DXC Technology 'to Transform Lloyd's' via Insurance News
Lloyd's is taking the next step in its ambition for a digital and technology-led insurance marketplace that will provide accuracy, speed, and processing power to the London insurance markets.
A vital digital transformation of central processing services will be delivered under a new partnership listed with NYSE-listed DXC Technology, the boards of the Lloyd's Market Association, and the International Underwriting Association (IUA).
INDUSTRY TRENDS InsurTech Startups Compete Head-on with Traditional Carriers via PitchBook
PitcBook's latest installment of Emerging Tech explores the major trends that shaped the InsurTech space in Q1 2021, including optimism around embedded insurance products and a record exit value. Among the takeaways:

InsurTech startups raised $2.2 billion across 110 deals globally, with commercial lines attracting about one-third of total capital invested in the vertical.
Late-stage valuations jumped during the quarter without significant changes in median deal sizes, potentially indicating that late-stage founders are decreasing equity share offerings.
Embedded insurance is expected to be the fastest-growing distribution channel in the decade to come.
INDUSTRY TRENDS: Investors Flocking to APAC InsurTechs with Hybrid Distribution, B2B Models via S&P Market Intelligence
S&P Global Market Intelligence data shows at least 335 private InsurTechs operating in Asia-Pacific, with about 122 of them disclosing $3.66 billion in aggregate capital raised via private placement deals.
China and India are collectively home to nearly half of private InsurTech companies in the APAC region. The two markets will continue to corner the lion's share of investor interest, thanks to their large and fast-growing insurance markets.
The APAC region, with most of its InsurTechs complementing existing carriers, presents a contrast to the U.S., where private capital is skewed toward full-stack companies looking to disrupt the incumbents.
---
M&A Outlook
Insights and intelligence on recent notable industry transactions.​​​
U.S. Sues to Stop $30 Billion Global Insurance Merger of Aon and Willis Towers Watson via CNBC
The deal would combine two of the "Big Three" global insurance brokers, the department said. The third is Marsh McLennan.
The complaint, filed in the U.S. District Court for the District of Columbia, listed five areas of concern including identifying appropriate health benefits plans for big customers and plans for property, casualty, and financial risk for large customers.
This month, Aon announced the sale of some assets to private equity firm Aquiline Capital Partners and tech firm Alight for $1.4 billion in a bid to get U.S. approval. The proposed divestitures were insufficient, the department said.
Zywave Acquires Modgic, Provider of Workers' Comp & Mod Analysis Software via PR Newswire
Insurance technology provider, Zywave, announced the acquisition of Bend, Oregon-based Modgic, a provider of workers' comp and mod analysis software for the Commercial Insurance industry.
Founded in 2013, Modgic provides a unique insurance application and tool on a nationwide platform to agents, brokers, carriers, and policyholders.
The Modgic acquisition marks Zywave's sixth in less than two years.

In April 2021, Zywave acquired Enquiron, a leading provider of risk management and consultative business solutions.
In November 2020, Zywave announced the acquisition of Both Advisen, the foremost provider of data, media, and technology solutions for the Commercial Property and Casualty Insurance market, and ITC, a leading provider of marketing, rating, and management software and services for the Insurance industry.

Source: Google Images
InsurTech Helper Bees Acquires In-Home Care Platform healthAlign via HIT Consultant
The Helper Bees, an InsurTech company creating a better model for home care, announced the acquisition of healthAlign, a platform, connecting Medicare Advantage health plan members to a full range of of in-home service providers.
healthAlign helps health plans better manage the full range of services into the home. Through its cloud-based homeAlign™ application, the company automates the workflows of in-home services, helps guarantee fulfillment through a nationwide network of credentialed in-home service providers, and creates a marketplace where providers are rewarded based on past performance and rates.
​​​See our latest Sectorwatch research reports for a comprehensive list of Insurance industry M&A activity and valuation trends.

About 7 Mile Advisors
7 Mile Advisors provides Investment Banking & Advisory Services to the Business Services & Technology industries globally. 7 Mile Advisors advises on M&A and private capital transactions, and provides market assessments and benchmarking. As a close-knit team with a long history together and a laser focus on our target markets, 7 Mile Advisors helps its clients sell companies, raise capital, grow through acquisitions, and evaluate new markets. For more information, including research on the M&A markets, visit www.7mileadvisors.com.
Subscribe to receive newsletters and industry research, as well as details about recent transactions, new podcast episodes, and upcoming events: